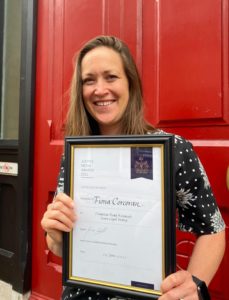 Name: Fiona Corcoran
Job: Editor of The Opinion Line on Cork's 96FM
Twitter: @fiona96fmnews
What do you love about being a journalist?
The people that I meet, especially the ordinary people who have an extraordinary tale to tell. It's a real privilege to know that people trust you enough to tell you their story.
What's the worst part of your job?
It's extremely difficult to switch off. Especially now with smart phones and social media!
If you were not a journalist what job would you like to be doing?
I was a primary school teacher for a year and I sometimes wish I'd followed that career path instead.
What has been the highlight of your career so far?
Getting a chance to present the Opinion Line when PJ Coogan was off.
Who is your hero?
My mam. She always taught us to get up and keep going no matter what.
Tell us something about yourself we might not know already?
I volunteered with The Samaritans for a few years. It was an incredible experience and taught us about the importance of active listening.
Who would you love to interview and why?
Britney Spears. She has some story to tell!
Give us some advice?
In my humble opinion – kindness, empathy and good manners go a long way.